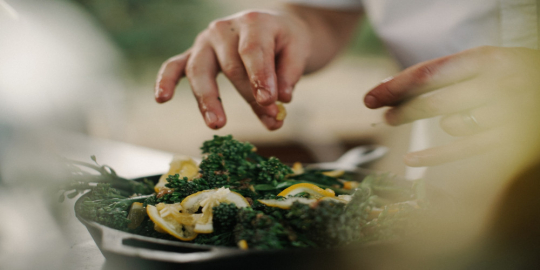 In today's world, people are always on the go. There is no time to sit and read a cookbook, for example. There is also not enough time to go to the store and prepare a meal. I decided to prepare a list of apps to help you cook tasty and quick meals.
BigOven
Ever wondered how to make a perfect cake? Or what ingredients to put in your macaron? BigOven is the app for you. This app is a cooking app that gives you recipes, tools, and tips. You can choose from thousands of recipes from different countries, like American,
Indian, Mexican, and Japanese.
There are also many video tutorials that show you how to make recipes. You can also find a recipe by type, like breakfast, dessert, or main dish. You can even find recipes by occasion, like Thanksgiving or Christmas.
If you're not sure what to cook, there are over 100 different ingredients to explore. The app also has a shopping list so you know what ingredients you need. The app stands out among its competitors due to the meal planner function.
Kitchen Stories
With the Kitchen Stories app, the user can browse and search for recipes that they want to try. These recipes are meant for a specific number of people. With the Kitchen Stories app, the user can quickly find a recipe, cook it, and create a story with their friends. The good thing is that you can watch the video of the whole process and photos of the dish at every step of its preparation.
The app is full of recipes that are both easy and quick, and new ones are constantly added. You can search for new recipes by filters just in a few taps.
Forks Over Knives
The app for the movie, Forks Over Knives, is a health-focused app that is centered around the idea of eating whole, plant-based foods to lose weight, gain energy, and prevent or reverse chronic diseases.
The app offers a number of features including a healthy eating guide, an exercise plan, dozens of vegan recipes, and an extensive list of vegan products.
Youmiam
Youmiam is an app that provides recipes from around the world. The user can select cuisine from a list of available cuisines or search by ingredient. The user can also save favorites and send recipes to friends. It's like Pinterest, but for recipes.
Jamie Oliver's Recipes
Jamie Oliver is a famous British chef who has created a number of popular TV shows and restaurants. He is also the founder of the Jamie Oliver Food Foundation. His company developed the Jamie Oliver Recipes app which is available on the iTunes store for free.
The app has a number of different features that make it extremely useful. The interface is intuitive and easy to use. The app has a number of new recipes as well as old favorites. You can search the app by dish type, ingredient, or the chef. The app also includes a number of videos that show you how to prepare the meal.
Allrecipes Dinner Spinner
Allrecipes Dinner Spinner is a free app that simplifies your dinner time by providing you with a list of delicious recipes that are easy to make. Allrecipes Dinner Spinner has plenty of categories, including Breakfast, Lunch, Dinner, and Desserts. You can search for recipes by ingredient, by course, or by meal. You can also search by dietary need, such as vegetarian, gluten-free, or vegan.
Allrecipes Dinner Spinner is a great app for those who need to eat light, for those who are cooking for a significant other who has dietary restrictions, or for those who are short on time. The app has recipes that are quick and easy to make, so you can spend less time in the kitchen and more time with your family.
SideChef app
SideChef is an app that provides recipes and tutorials that are quick and easy to make. It also helps you plan meals for the week. You can find recipes for all different types of cuisines on SideChef. It also has a feature called "My Favorites" that allows you to save recipes that you like.
The app also has a "Dinner Tonight" feature that lets you select a protein, pick a side dish, and it will tell you how to make a dinner for two in about 30 minutes.
Mmm, Tasty!
I believe the quality of food you prepare for yourself is the most important thing in life. I encourage you to download these apps, and try them out.
I also hope that this article helped you in discovering the best cooking apps for your needs, and I hope that they help you cook better food.