Garena Free Fire review
Combinedestiny.com is not an official representative or the developer of this application. Copyrighted materials belong to their respective owners
Garena Free Fire is a mobile battle royale game that has taken the world by storm. With its simple and easy-to-understand gameplay, Garena Free Fire has managed to captivate audiences of all ages. The game is developed and published by Garena. It was released on December 4, 2017.
Graphics
The graphics in Garena Free Fire are top-notch and provide an immersive experience for the player. The game's environment is highly detailed and the character models are well-rendered. The game's visual effects are also very impressive, making for an overall pleasing visual experience.
Gameplay
Garena Free Fire's gameplay is fast-paced and intense. The game starts with players parachuting onto an island and they have to find weapons and other items to survive. The last person standing wins the match. The player must use their wits and skills to survive against 49 other players in a battle to the death. The game is very easy to pick up and play, and its simple controls make for an enjoyable experience.
Replay Value
Garena Free Fire has a high replay value due to its addictive gameplay. The player will always want to come back for more, as the game is extremely enjoyable. The game also features a lot of customization options, allowing the player to tailor their experience to their liking.
Conclusion
Garena Free Fire is an excellent mobile battle royale game that is sure to please everyone. With its great graphics, gameplay, and replay value, Garena Free Fire is a must-play game.
Screenshots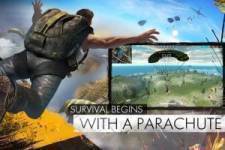 Rating:

4.5

Voted:

4154855

Version:

1.18.0

Autor:

GARENA INTERNATIONAL I PRIVATE LIMITED

Content rating:

TeenViolence, Blood