The Sims FreePlay review
Combinedestiny.com is not an official representative or the developer of this application. Copyrighted materials belong to their respective owners
The Sims FreePlay is a mobile gaming experience for iOS and Android. It is a free-to-play game in which you can create your own Sims and control them in the neighborhood. The game is available for download on the App Store and Google Play.
Concept
It is a simulation game and it is a sequel of the original game (The Sims) . It is specifically designed for people to have fun by creating their own unique Sims and sharing their creations with others.
The game's main function is to create your own Sims and control their lives. You can create and control up to three Sims at a time. You are also able to design the homes of the characters, design their clothing, and even design their hair styles.
Gameplay
The game allows players to create Sims with unique appearances and personalities and assign them to build and manage their own homes, with several features from The Sims 3. It allows you to pay real money for extra items that can help you complete tasks quicker, such as buying a new bed for the Sims.
The game also has a time limit for each task, so you will have to be fast when you do things in the game. You will also have to get to the end of tasks to earn money, which can be used to buy items.
The Sims FreePlay also adds a social element to the game, because you can visit the homes of other Sims and interact with them. There is a lot to do here, so you will not have a dull moment while playing it. Additionally, players can take part in fun activities and build their Sims' social networks. The game has been received positively by critics, with many praising the number of customization options, the visuals, and general gameplay.
The game is divided into two sections: one for your Sims, and one for the neighborhood. The Sims section of the game has a lot of things to do. You can go to the park to play a game with the children, or you can go to the spa to have a facial.
In-app Purchases
The Sims FreePlay is a freemium game, meaning that it is available for free to download and play, but that some aspects of the game require payment. In this case, players can purchase a paid version with no advertisements.
Feel Your Sim
The game has multiple features that allow people to get to know their Sims better. For example, the player is able to interact with their Sim's aspiration meter, choose what kind of jobs and careers their Sim will work for and what they will study in school. The player is also able to decorate their Sim's house and choose what kind of activities their Sim will partake in.
Screenshots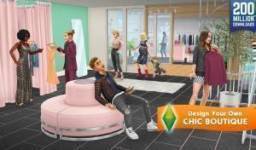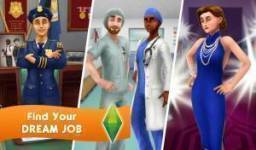 Rating:

4.2

Voted:

4877153

Size:

31M

Version:

5.39.1

Autor:

ELECTRONIC ARTS

Content rating:

TeenFantasy Violence, Sexual Content, Partial...

Rating:

4.5

Voted:

117.3K

Compatibility:

English, Dutch, French, German, Italian, Japanese, Korean, Portuguese, Russian, Simplified Chinese, Spanish, Traditional Chinese

Size:

1.2 GB

Version:

5.51.0

Autor:

Electronic Arts Inc.

Content rating:

12+

Languages:

English, Dutch, French, German,...