Hello Neighbor review
Combinedestiny.com is not an official representative or the developer of this application. Copyrighted materials belong to their respective owners
Have you dreamed about a breathtaking horror game? Hello Neighbor is an engaging game where your opponent is an artificial intelligence that goes ahead of all your actions. Play on Android or iOS anytime.
Gameplay 10/10
The action of the Hello Neighbor game virtually presented in a usual small private sector. The adventures begin as soon as you walk next to the neighboring house. From now on, you will try to quietly enter your neighbor's house and do everything so that he doesn't catch you. When you walk around a neighbor's house, the landlord shouldn't notice you, otherwise, he will chase and catch you. If this happens, you will have to penetrate the mysterious mansion again.
Also, the player can receive additional abilities - invisibility from a neighbor, a double jump, etc. To obtain them, you need to open mini-games using special keys. It is recommended to pump these abilities, as they will be significant for you to successfully end the game in the final stages.
Artificial intelligence is the main feature of the Hello Neighbor game. It allows a neighbor to play against you by setting traps along the paths that you completed the previous time, or inserting new windows instead of broken, and so on.
Visuals 8/10
The style and graphics of the game are funny and enjoyable: intense sound effects and typical horror elements curiously resonate with colorful graphics. Many locations are executed soundly, there are interiors pleasing to the eye. Hello Neighbor has a chic visual style - psychedelic, and retro-futuristic, clearly inspired by America 1950. Despite the juicy picture in the trailers, in the game itself, it is a little bit messed up by a lack of detail.
Replay Value 10/10
The creative space provided in Hello Neighbor game is endless. The Secret Neighbor spin-off game was launched between the first and second acts of Hello Neighbor. It complements the meaning of the game well and gives the player even more exciting moments. A game plot is based on the adventures of a group of friends who try to help free a friend who can't get out of the neighbors' basement.
Besides, game developers have released an incredible prequel to Hello Neighbor - Hide and Seek game. You have an opportunity to immerse yourself in the atmosphere of a mysterious family and solve the cryptic disappearance of one of the family members.
It would be such an exciting moment for you to repeat playing this game because Hello Neighbor always has more and more mysteries for its players.
Controls 9/10
The control system in Hello Neighbor is quite typical for games of the horror genre. On the left side of the screen, you will find a joystick to control the movement of the character. The action semitransparent buttons are on the right which you can use to jump, interact with many different objects, collect a variety of gadgets, and so on. The game is available on Microsoft Windows, macOS, and Xbox One.
Conclusion
Hello Neighbor is a super-addicting horror game that offers a truly exciting gaming experience. Hello Neighbor obtains original concept, which in fact has no direct analogs. A special atmosphere, a lot of secrets, and hidden opportunities can attract and drag for a long time into this crazy attraction.
Screenshots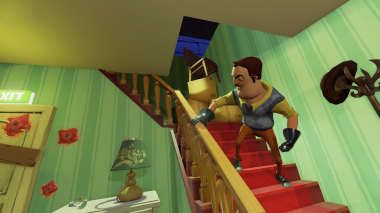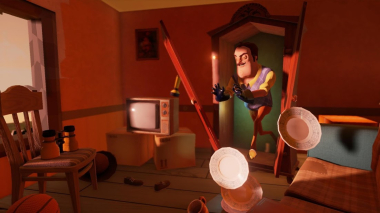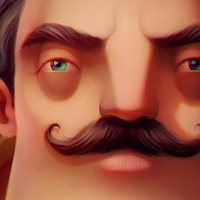 Rating:

4.2

Size:

29M

Version:

1.0

Autor:

tinyBuild

Content rating:

Everyone 10+Mild Violence

Voted:

151650